What are peptides?
In the latest instalment of our blog series that focuses on skincare ingredients, we examine the role of peptides, and the many and diverse benefits they can bring to your skin.
Peptides have been generating a lot of attention within skincare. There are many different types, which can deliver a variety of anti-ageing benefits. But what exactly are peptides? Why should you use them? And which types of skincare products contain them?
What do peptides do?
Peptides are short chains of amino acids which occur naturally within the body. They act as the building blocks of different proteins, including collagen, elastin and keratin. These proteins play a key role within your skin's structure and appearance, as they are responsible for firmness, elasticity, texture and tone. However, collagen and elastin levels decline as we age, which leads to lines and wrinkles, sagging, and a loss of youthful plumpness. Applying peptides topically can help to stimulate the production of these proteins, which in turn helps to counter this process.
Why use peptide skincare?
It's useful to think of peptides as your skincare communicators. When they are applied to your skin (usually within a serum or cream) they act as tiny messengers that prompt cells to perform certain specific functions, and stimulate rejuvenation mode. Different peptides play different roles. Some boost firmness, some target pigmentation, others improve hydration. They tend to achieve the best results with combined with other hard-working active ingredients, such as antioxidants and Hyaluronic Acid. There are hundreds of different peptides in existence, all formed of different combinations of amino acids, so it's definitely worth identifying which ones are best suited to your skin's specific needs. 
Which peptides do I need?
Broadly speaking, there are four key peptide categories: signal, carrier, neurotransmitter and enzyme inhibitor. Signal peptides tell our bodies to produce more collagen, while carrier peptides deliver trace elements deep within the skin, and help to encourage the healing process. Inhibitor peptides reduce the breakdown of collagen. Neurotransmitter peptides help to smooth the appearance of lines and wrinkles by preventing the release of chemicals that cause muscle contractions.
Which skincare products contain peptides?
Peptides are present in a wide range of skincare products, most commonly in serum or moisturiser formats. Leave-on products like this (as opposed to rinse-off formulas like cleansers) make perfect sense, as they allow more time for the various peptides they contain to get to work. Peptides suit most skin types, but as with everything else, don't overdo them. Because peptides can strengthen the skin barrier, they can work especially well in combination with Retinol and other forms of Vitamin A, which can otherwise aggravate sensitive skin.
Medik8 has created an advanced peptide portfolio that perfectly complements the brand's famous CSA philosophy (Vitamin C and sunscreen by day, plus Vitamin A at night. If you're concerned about uneven skin tone, we recommend Medik8 Oxy-R Peptides – a targeted solution to hyperpigmentation that addresses age spots, dull and discoloured skin. This radiance-boosting formula combines twin brightening peptides (Tetrapeptide-30 and Acetyl Glycyl Beta-Alanine) with a powerful, stabilised 1% concentration of renowned anti-pigmentation active Oxyresveratrol (Oxy-R). To ensure maximum freshness and efficacy, this serum is presented within two individual bottles (the second of which should not be 'activated' until the first one is finished).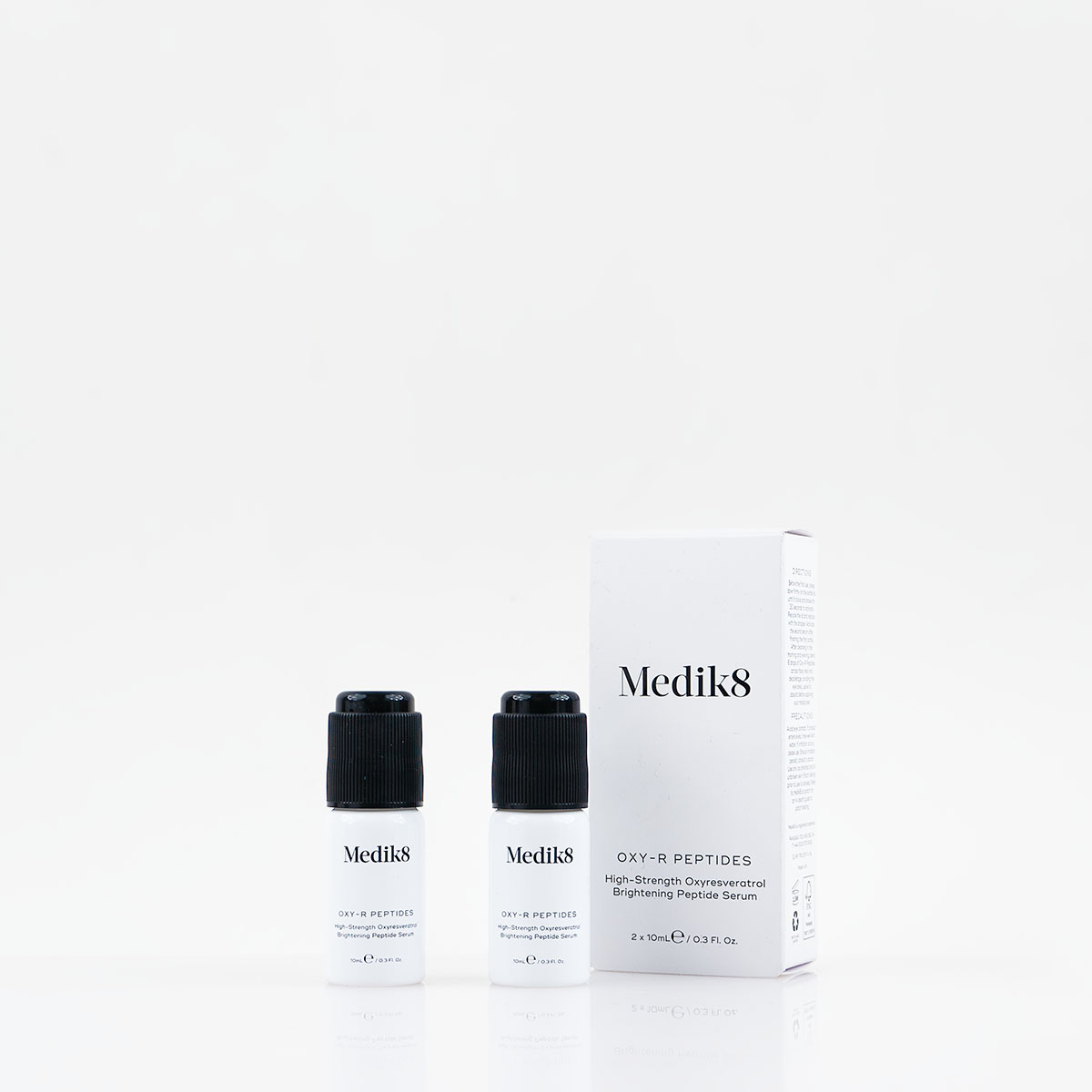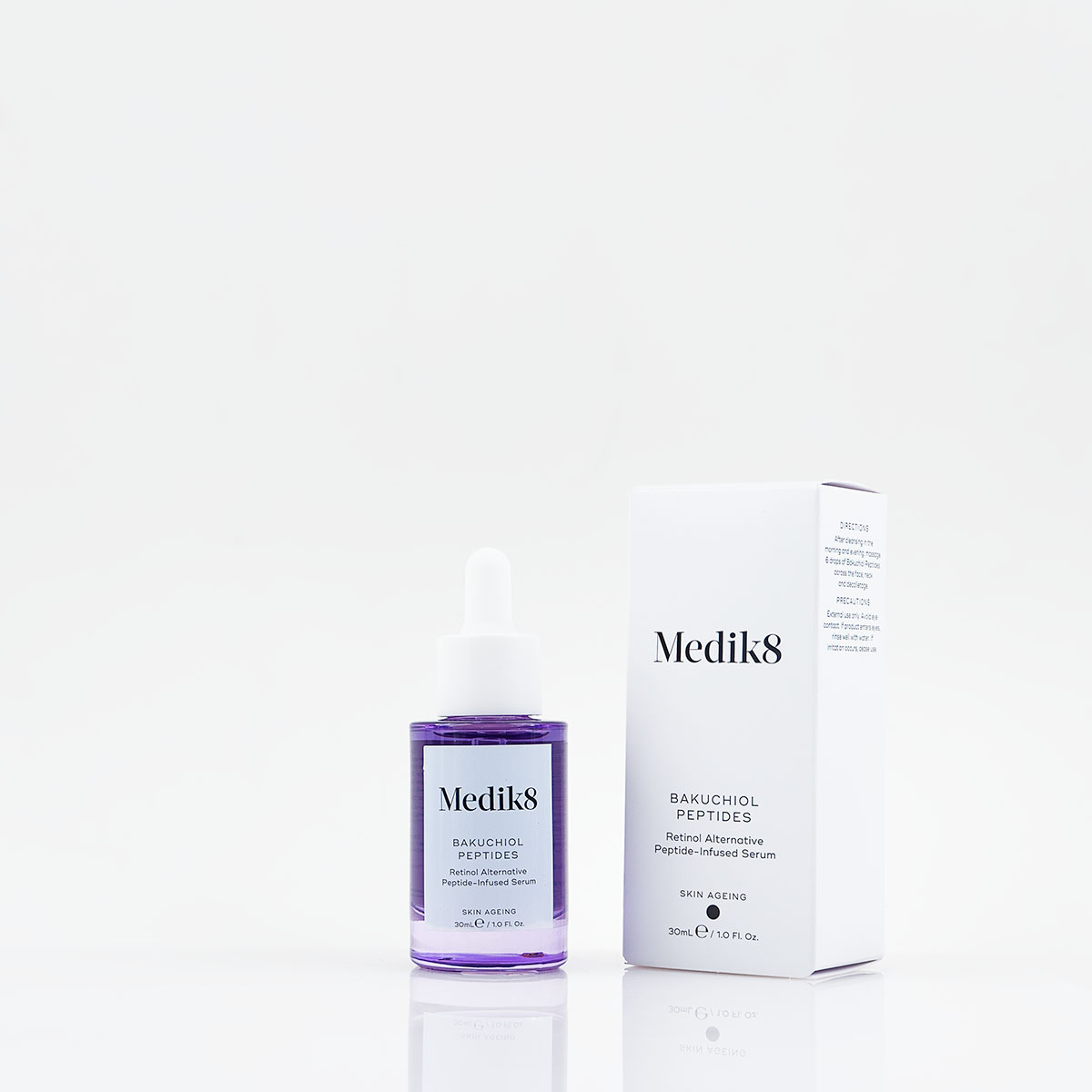 Copper is a great example of a carrier peptide, so if your skincare priority is repair do try Medik8's Copper PCA Peptides. This antioxidant serum features two anti-ageing peptides, Copper PCA to neutralise free radical damage, plus Vitamin E. With regular use, skin looks smoother, softer, visibly lifted and more radiant.
If you're keen to prevent premature ageing, but your skin is sensitive/reactive, or your suffer from conditions such as eczema, psoriasis or dermatitis, do consider Bakuchiol – a clinically proven alternative to Retinol/Vitamin A. This vegan ingredient is also considered to be suitable for topical use while you're pregnant or breastfeeding and, unlike most forms of Vitamin A, it can be used morning and/or night. Medik8's Bakuchiol Peptides help to smooth the appearance of fine lines and wrinkles, and improve overall skin texture and tone. In addition to 1.25% pure Bakuchiol, this formula also features Brightening Peptide Precursors to restore radiance; Centella Asiatica to soothe inflammation; and Inka Omega Oil to help prevent moisture loss.
Identifying 'hidden' skincare peptides
Often it's obvious when a skincare product contains peptides, as they feature in the name – but that's not always the case. So it's worth knowing what to look out for in the ingredients list (names such as Carnosine, Argireline and Matrixyl), in addition to ingredients described as Tripeptide, Tetrapeptide and Hexapeptide. Revision's Nectifirm Advanced, for example, incorporates eight powerful peptides, plus smart antioxidant technology, to smooth, lift and firm the delicate skin on the neck and décolletage. SkinCeuticals' Metacell Renewall B3 is another formulation that contains peptides which aren't highlighted in the product name – in this case a 2.5% firming Tri-Peptide Concentrate to reduce the appearance of fine lines and wrinkles, and enhance texture and tone.