The best winter skincare routine
Autumn is the ideal time to tweak your skincare, so you're perfectly prepped by the time winter arrives in earnest.
Autumn is a time of transition and preparation. We pack away the summer wardrobe and the garden furniture, and welcome back the warm coats and woolly jumpers. Obviously, we don't wear the same clothes in the winter as we do during the summer. Our skin's needs also change according to the season, which means that now is a great time to update your skincare routine for winter. The lightweight products that work well during the summer are less likely to achieve the best results as the temperature drops. Common cold weather skin concerns include dryness, dullness, redness and dehydration – all issues that are often exacerbated by low temperatures outside and central heating inside. The good news is that there are plenty of excellent skincare products (and aesthetic treatments) available to help you winterproof your skin, and get ready for the party season.
Reassess your cleanser
We talk about cleansing a lot, with good reason. Regular, effective cleansing is the most important step in your skincare routine, regardless of the season. During the winter, your skin might not react as well to harsher cleansers or foaming formulations. So do consider switching to a gentle balm, milk or cream, especially for your evening/double cleanse. Cleansing balms, which usually involve a quick massage routine and removal with a face cloth and warm water, can feel especially comforting when the cold begins to bite. 
Emma Hardie's Moringa Balm With Cleansing Cloth – which delivers deep cleansing without drying – is a firm favourite. Suitable for all skin types, including sensitive, this award-winning formulation thoroughly removes all traces of make-up, dirt and daily pollutants, to leave skin soft, moisturised, re-balanced and refreshed. 
Embrance Exfoliation
Winter skin often looks dull and grey. Exfoliation is one way to get your glow back. So if you don't already, do consider introducing an exfoliating acid into your winter skincare routine. AHAs (Alpha Hydroxy Acids) and BHAs (Beta Hydroxy Acids) are chemical exfoliants that resurface and retexture skin. Used correctly, they can achieve excellent results. If your skin is prone to sensitivity, or simply feels more delicate during the winter, try Medik8's Press & Glow. This high-performing toner uses Gluconolactone, a Poly Hydroxy Acid (PHA), to visibly brighten skin without irritation. PHAs don't penetrate as deeply as AHAs or BHAs, so they less likely to sensitise, while still boosting everyday glow.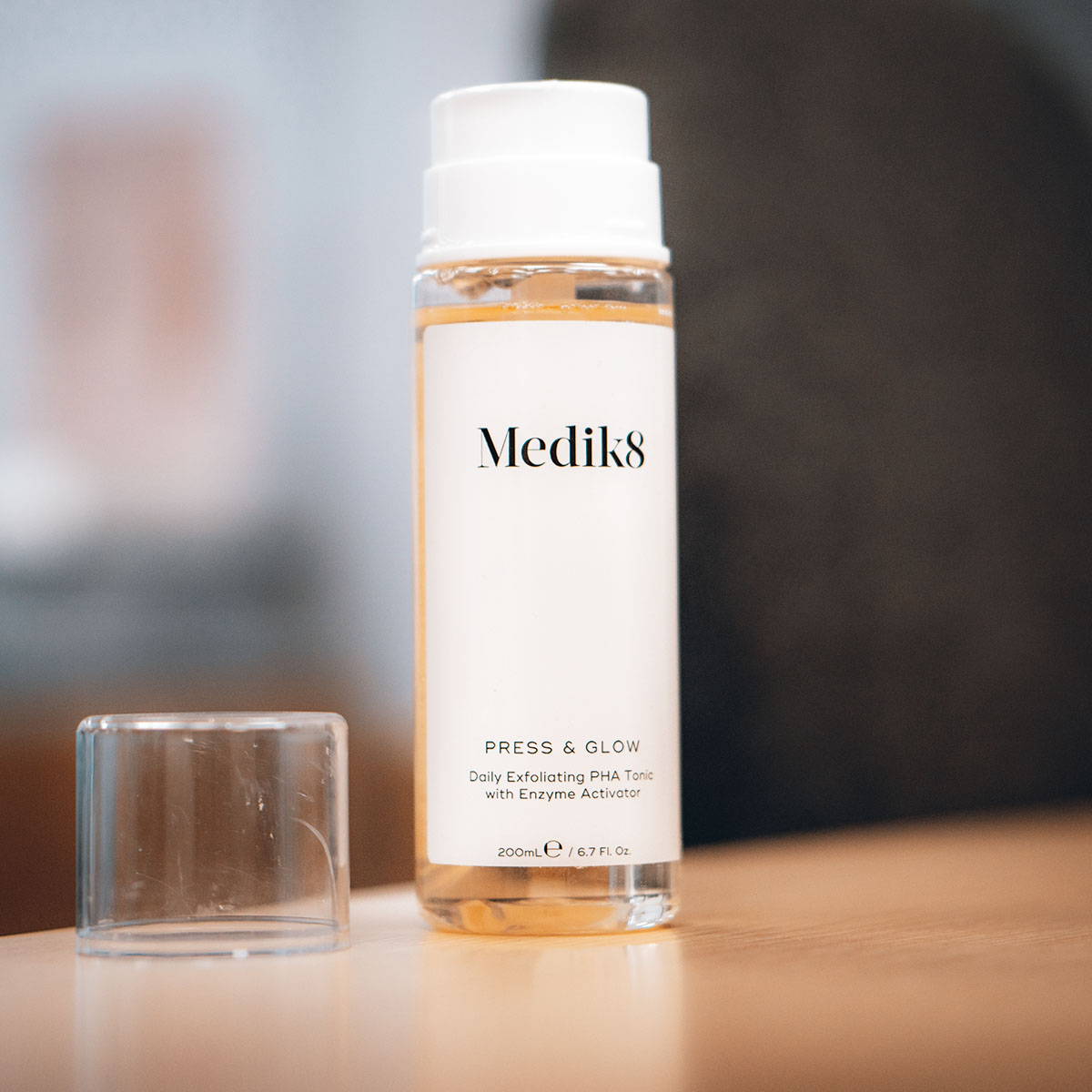 If your skin is suffering from post-summer pigmentation, autumn/winter is a good time to consider an in-clinic chemical peel, or even an exfoliating treatment such as a microdermabrasion facial. 
Moisturisation Matters
The terms moisturising and hydrating are often used interchangeably within skincare, although the former involves oil (lacking in dry skin) and the latter involves water (lacking in dehydrated skin). It's perfectly possible for your skin to be both, especially in the winter. Hydrating serums are an excellent way to keep skin comfortable, especially when the mercury drops. We like SkinCeuticals' H.A. Intensifier. This multi-functional formulation – which can be used day and night – helps to amplify the skin's Hyaluronic Acid levels, delivering long-lasting hydration to keep your complexion plump, smooth and firm, whatever the weather. 
If you really suffer with skin dryness during the winter, a hardworking moisturiser is a must. Avène's Hydrance Rich Hydrating Cream is perfect for dry/very dry and sensitive skin. It features Avène's soothing Thermal Spring Water and Shea Butter, an hard-working antioxidant emollient that locks in moisture and keeps skin smooth and soothed. 
Take time to repair
When the weather is colder, your skin often needs a little extra TLC. So do consider introducing a nourishing mask to your winter skincare routine. Face masks are an excellent way to deliver active ingredients to the skin. Add some music, mood lighting (and perhaps your favourite tipple!) for an instant indulgent pampering session. The Organic Pharmacy's Honey & Jasmine Mask is the ideal repair treatment for dry, dehydrated or compromised skin. Enriched with Honey, Evening Primrose, Jasmine and Squalane, this intensely moisturising treatment nourishes and firms skin, strengthens the skin barrier and restores elasticity. It smells amazing, too!
Winter can be an unkind time for extremities. We don't think twice about protecting our hands and feet with warm gloves and thick socks. But make sure you don't neglect your eyes and lips either! The skin in these areas is thin and fragile, which means it's extra vulnerable to cold, wet, wintry weather – and the drying effects of central heating. 
Epionce's Anti-Ageing Lip Renewal is a daily treatment that soothes dryness and counters flaking. It's the perfect remedy for sore, cracked winter lips. As an added bonus, it even includes soft-focus technology to minimise the appearance of lines and wrinkles.
No winter skincare routine would be complete with a specialist eye product. Why not treat yourself to Swissline's Cell Shock Luxe-Lift Eye Cream? This luxury formulation hydrates and nourishes the delicate skin around the eyes, countering lines, sagging and dryness. The formula features high concentrations of marine collagen, colloidal gold, silk protein and Bio-Mimetic growth factors, to rebuild and fortify the protective barrier, and boost collagen synthesis. Apply morning or evening, either alone or after your usual eye serum.