The best body care routine for winter
It's not just your facial skincare routine that needs updating as the seasons change. Your body care regime will also benefit from a few simple tweaks, to keep skin soft, supple and smooth throughout the winter months.
It's not just your facial skincare routine that needs updating as the seasons change. Your body care regime will also benefit from a few simple tweaks, to keep skin soft, supple and smooth throughout the winter months.
Bathing Beauty
Just as cleansing is the most important step in any facial routine, regardless of the season, a daily shower or bath is vital to keep us clean and nice to be near. Make it more of a ritual/celebration by, ahem, splashing out on a fancy shower gel or bath oil. Plain old soap and water has its merits, of course (especially if your skin is sensitive or reactive). But when the days are cold and short and the nights are cold and long, regularly immersing yourself in something fabulous and foaming can be hugely cheering. The best formulations don't just wash your body, they also soften, nourish and hydrate your skin. Choose an uplifting fragrance for a start-of-day shower, or a more relaxing aroma for a pre-bed bath.
The art of exfoliation
Winter skin often feels dull and grey. Get your glow back by exfoliating regularly. A physical scrub or body polish is a great way to target dry, flaky skin and restore your natural radiance. Chemical exfoliants are an excellent alternative if you're concerned a scrub might be too harsh. 
Dry skin brushing
Yet another effective method for exfoliating dull winter skin is dry skin brushing. This process removes dead skin cells, unclogs pores, boosts circulation, and stimulates your natural lymphatic system. For the best results, use a specialist brush with firm, natural bristles, such as The Organic Pharmacy's Body Skin Brush. The long, detachable handle ensures easy access for those hard-to-reach areas, such as the centre of your back. 
Dry body brushing is best done before your morning shower. Start with the soles of your feet and legs and brush upwards towards your heart using short, firm strokes, but don't press too hard. Brush your arms upwards from your hands, and use circular motions on your tummy. Rinse away the dead skin cells afterwards – and then make sure you moisturise!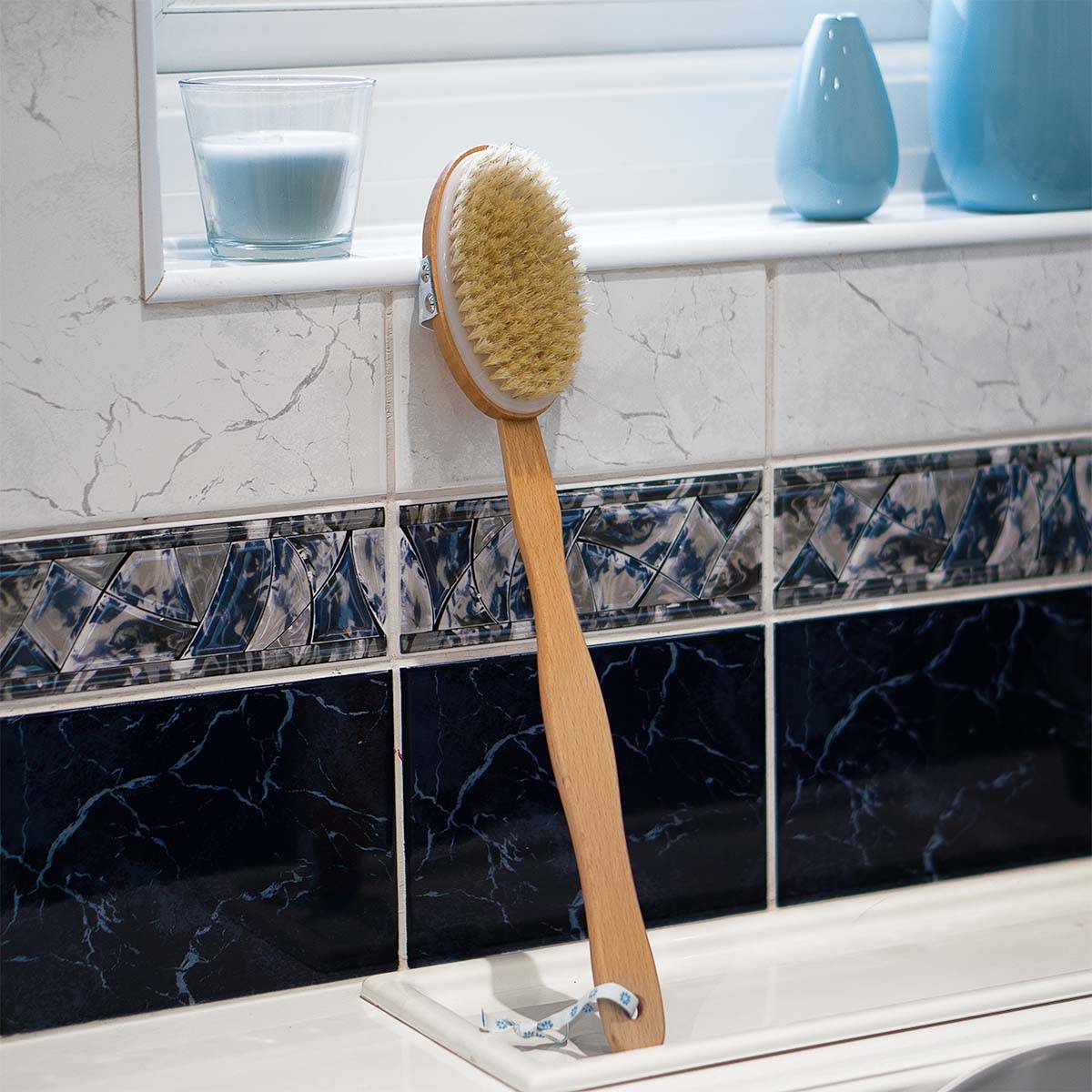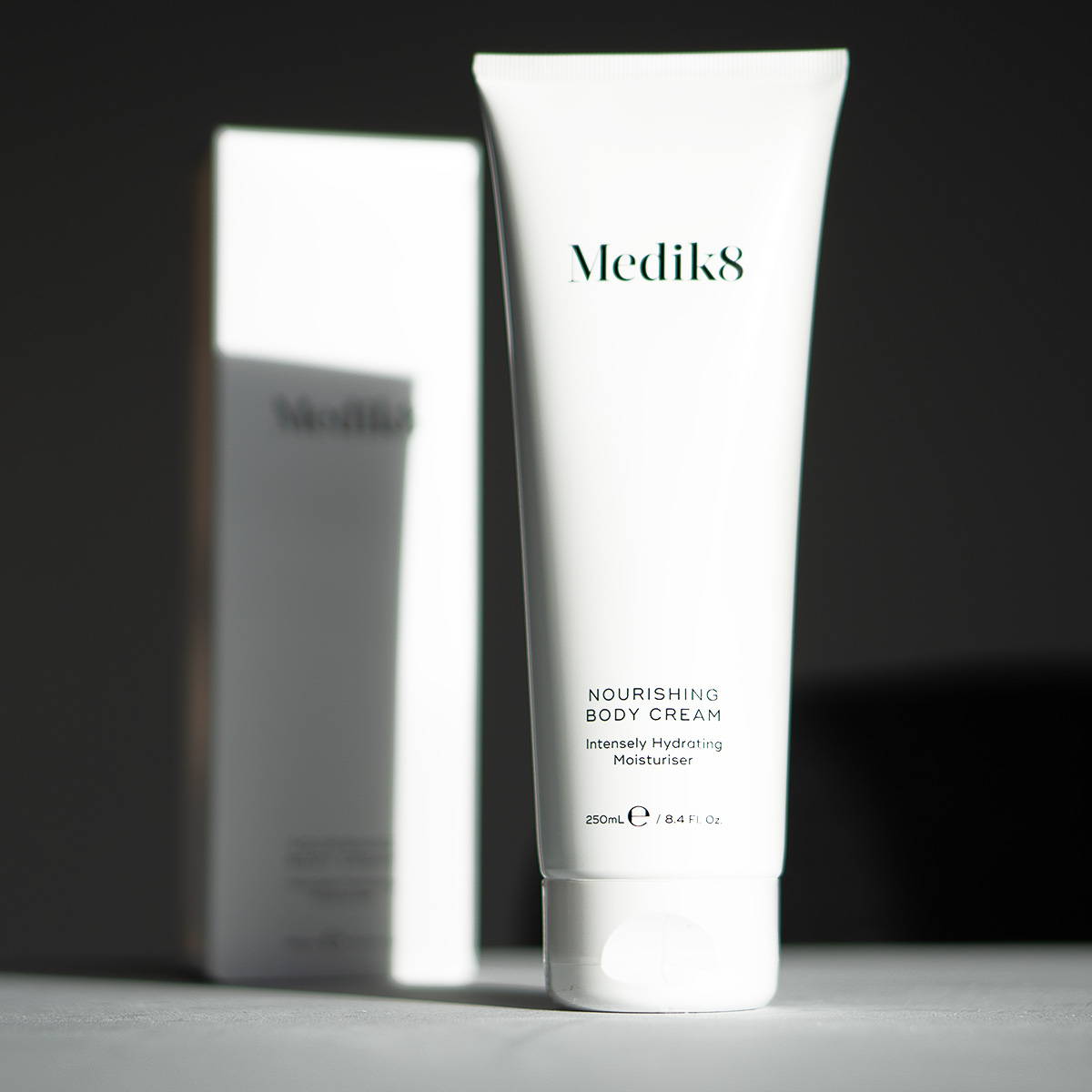 Nourishing and hydration
The combination of cold winter weather outside and central heating inside can be extremely drying and/or dehydrating for your skin. So it's important to keep moisture levels replenished. Swap your lightweight summer body lotion for a richer formulation. We like Medik8's Nourishing Body Cream. Featuring the brand's signature Moisture Magnets (hydrators that bind to skin cells then draw moisture to themselves), this fast-absorbing body cream keeps skin soft and supple, smoothing dry patches and restoring the skin's natural protective barrier. Other key ingredients include natural humectant Glycerin, which traps water within the skin, and Cocoa Butter, a hard-working emollient.
Winter is the perfect excuse to indulge in some additional body TLC. If you're keen to improve texture and tone, do try Avant's R.N.A Radical Anti-Ageing & Tightening Body Cream. This rich, deeply moisturising, restorative body cream helps to noticeably firm and tighten slack, sagging skin. The advanced formulation features Ribonucleic Acid (RNA) – a key biological building block essential for skin cells to replicate and repair. This is complemented by Hyaluronic Acid, to boost hydration, and Urea, which helps to lock in moisture and keep skin soft and supple.
The benefits of body oils
If you've never used one before, winter is an ideal time to try a body oil. Oils are renowned for their ability to moisturise dry skin, thanks to their "locking" and protective properties. Modern versions feel light (not greasy), are easily absorbed, and enhance natural glow. Choose a formula that includes essential oils for a complete sensorial experience. We like The Organic Pharmacy's Rose & Jasmine Body Oil. This can be used as a massage oil, a hair oil, and can even be added to your bath. It's clinically proven to increase skin's elasticity and improve the appearance of wrinkles. The floral combination of rose and jasmine smells absolutely amazing, too!
Lastly, your hands have a lot to deal with during the winter, especially if you're still practising good hand hygiene. Some perfumed soaps and anti-bacterial hand gels/sanitisers can be extremely drying. Counter this with a specialist formula, such as Epionce's Restorative Hand Cream. Infused with powerful botanicals including Raspberry Seed Oil, this non-greasy formulation delivers daily moisturisation and helps to improve the appearance of photo-aged skin.