Is your skin at one with nature?
When so many environmental factors influence our skin health, including the sun, wind, temperature and humidity, it makes sense to not only be aware of how the elements can damage our skin but how they can help too.
Many of us experience drier skin in winter due to colder outdoor temperatures and lower humidity which can drive us to spend more time indoors. However, this doesn't necessarily protect our skin, since at home we're exposed to central heating and more time in front of blue-light-emitting electronic devices like smartphones, laptops and TVs.
Although it's easy to hibernate when it's cold and wet outside, you could be missing out on some of the health and well-being benefits of being out in nature. So get your walking boots and a warm coat on, and get ready to boost your winter skincare at home and outside.

How does being in nature benefit our skin? 
An invigorating walk along the coast or stroll through the countryside promotes blood circulation, which helps to carry oxygen-rich blood and nutrients to your skin. This also helps to carry away waste products from your skin, helping it look healthy and radiant. Studies also show that spending time in nature relieves stress, which can help to prevent inflammation in the body that can manifest in conditions like psoriasis, rosacea and eczema. Another important part of being outdoors is natural light, which helps to regulate our sleep cycle (essential for skin repair) and provides us with vitamin D which contributes to skin cell growth.
How do I get vitamin D without sun damage? 
When your skin is exposed to sunlight, it prompts the cholesterol in your skin to make vitamin D. This may sound confusing since one of the basic principles of anti-ageing skincare is to use sunscreen to protect the skin from sunlight. However, clinical studies have not proved that daily sunscreen use inhibits vitamin D production, meaning that you can still get the benefits of vitamin D from a sunny winter's day while wearing sunscreen. In the UK however, it's recommended that we supplement with vitamin D due to the lack of sufficient sunlight.
What skincare products utilise nature? 
One of our bestselling products is SkinCeuticals Phyto Corrective Serum which uses natural plant-based ingredients like cucumber and thyme to soothe and calm, mulberry to help fade the appearance of discolouration and a range of botanicals. These ingredients work in harmony with your skin and help to rescue sensitive skin from the drying effects of winter. Phyto A+ Brightening Treatment is another soothing product in the range, which combats the dulling effects of winter by enhancing skin tone clarity, radiance and texture. Similarly, MZ-Skin uses nutrient-rich placenta (ethically sourced from a rural New Zealand sheep farm post-birth) and phyto stem cells to stimulate collagen and elastin production.
What else should I use in my winter skincare routine?
Don't forget about your antioxidants and SPF to protect skin from winter sun. Medik8 C-Tetra provides powerful antioxidant protection using vitamins C and E, while Advanced Day Ultimate Protect SPF50+ is the perfect year-round protection against indoor and outdoor aggressors.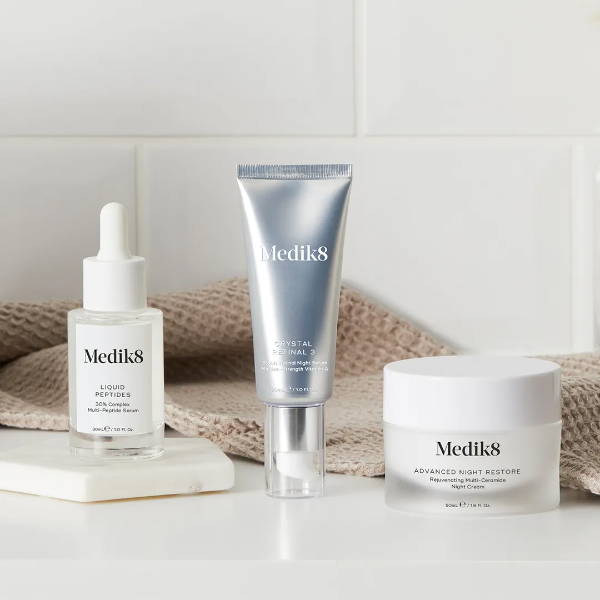 You'll also want to focus on moisture moments to keep skin hydrated, smooth and soft while reinforcing the skin barrier from transepidermal water loss (TEWL). Medik8 Liquid Peptides ensures skin is kept smooth and comfortable while treating signs of ageing. Boost your beauty sleep with our go-to renewal and hydration heroes: Medik8 Crystal Retinal will keep skin clear, balanced and radiant, while Medik8 Advanced Night Restore uses a powerful combination of antioxidants, peptides and ceramides as the ultimate self-care for skin. And if a blustery walk has left your skin parched? Replenish and seal in moisture with Medik8 H.E.O. Mask, which will give you deeply hydrated and happy skin by morning.