How stress levels can affect your skin
If you're stressed, your skin can really show it. Read on to find out why – and how using the right products, together with certain lifestyle choices - can minimise the effects of skin stress.
What are the symptoms of stress?
Stress manifests itself in a variety of different ways. It can affect how you feel physically and mentally, and influence how you behave. But not everyone realises that elevated stress levels can also have a detrimental effect on your skin. 
At this point, it's worth pointing out that not all stress is bad. For example, low-level stress can sometimes be helpful and motivational, pushing you out of your comfort zone to realise new achievements, and become more resilient. Stressful events are a fact of life. So learning how to manage stress is a far more realistic objective than attempting to avoid it entirely.
However, as with so much in life, while a little is good, a lot is not. Intense periods of chronic stress can trigger a wide range of symptoms, including physical aches and pains, dizziness, high blood pressure, muscle tension, exhaustion, stomach and digestive problems. Common emotional signs of stress include depression, anxiety, irritability, loss of libido, memory/concentration problems and mood swings. But stress doesn't just affect the way you feel. Because it's a key contributory factor of premature ageing, it can also impact the way look. 
How does stress affect your skin?
Stress can affect your skin in many different ways – some obvious, others not. Some issues are mechanical. For example, if you frown a lot or hold tension in your face, this can contribute to the formation of lines and wrinkles. Other issues are chemical. An over-abundance of the stress hormone cortisol, in particular, can cause or exacerbate a wide range of problems, ranging from acne to sagging skin.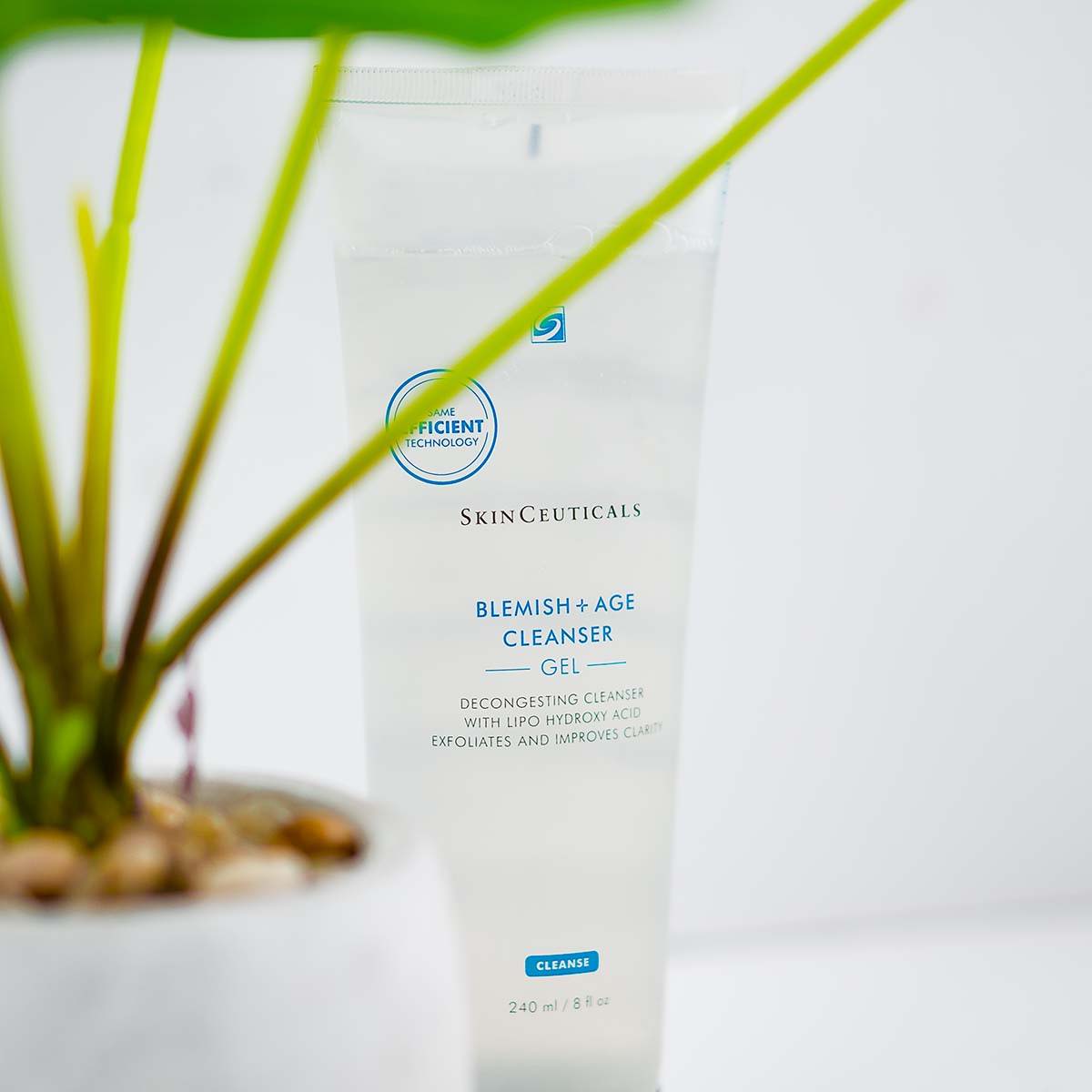 Stress
Acne is a very common chronic skin condition that causes oily skin, different types of spots, and even skin that feels hot and/or painful to the touch. It's caused by several key factors, one of which is excess oil/sebum production, which in turn is often triggered by high levels of cortisol. So when you're stressed, your skin can become oilier, pores become blocked, and mild, moderate or even severe acne ensues. 
One obvious solution is, of course, to stress less (easier said than done). More practically, the right skincare regime can also make a huge difference. Mild acne usually responds well to products that contain Glycolic Acid (an AHA), an effective exfoliator that helps to regulate cell turnover and keep pores clear. Products that contain Salicylic Acid (a BHA) are an excellent option if your acne is moderate. It can penetrate deeper into the pores than its Glycolic counterpart, and is also antibacterial and anti-inflammatory. We recommend SkinCeuticals Blemish + Age Cleanser Gel. Featuring both Glycolic and Salicylic Acid, it gently exfoliates and decongests, removing dead cells and excess oil without stripping or irritating skin. 
Stress and psoriasis, rosacea and eczema
Both acute and chronic stress can trigger episodes of psoriasis, eczema and rosacea, and generally aggravate sensitive or reactive skin. The chief culprit here is inflammation – thought to be one of the factors that can worsen a number of skin conditions – and which in turn is often exacerbated by stress. Common symptoms might include stinging, burning, itching, redness, irritation and flaking. Although each of these conditions is different, gentle skincare products that are suitable for sensitive skin can play a key role in preventing and managing flare-ups. Daily sun protection is vital, too. Created especially for sensitive skin, the Avène portfolio is well worth exploring if stress is making your skin red and reactive. Try the Skin Recovery Cream Moisturiser for Very Sensitive Skin. We also like the Very High Protection Spray SPF50+.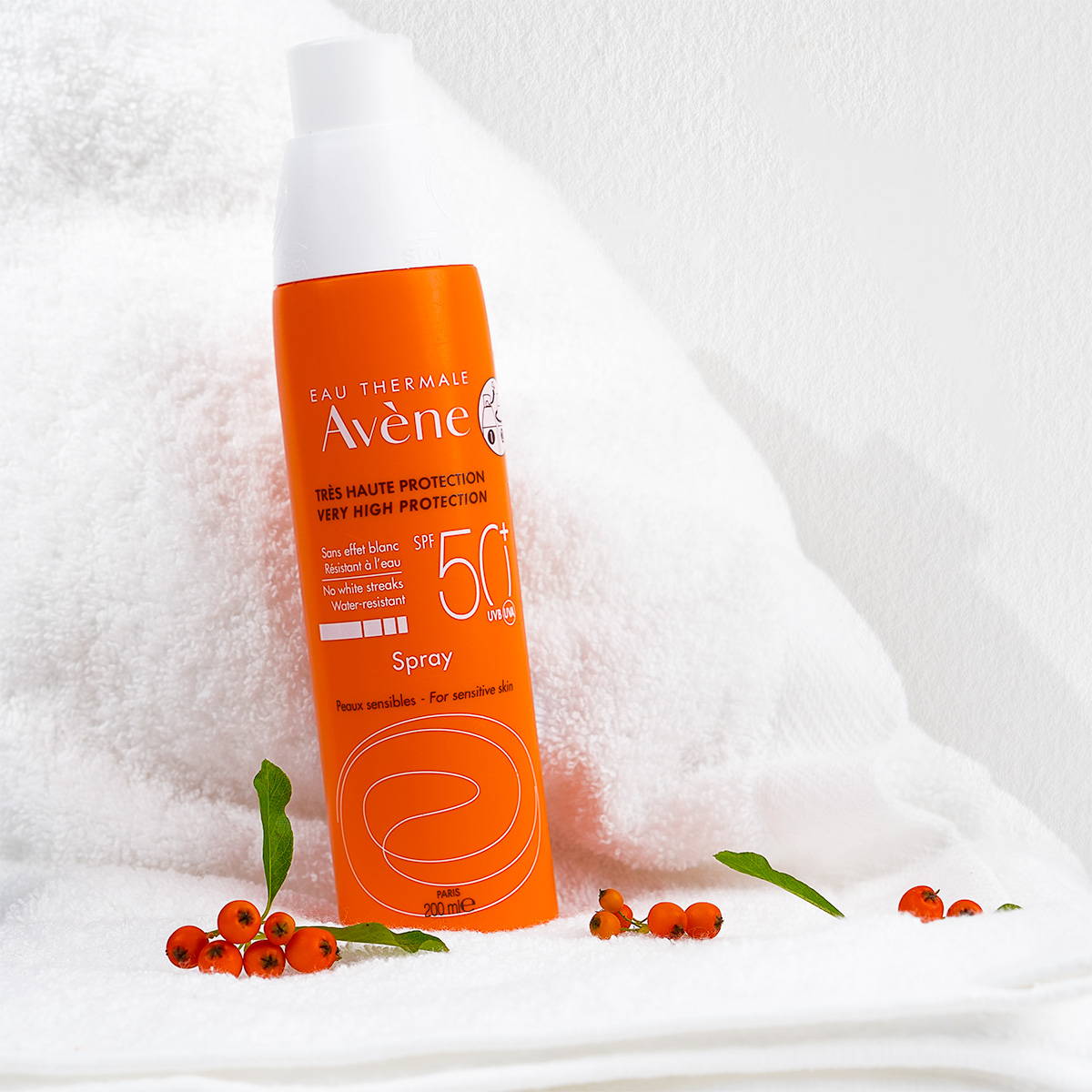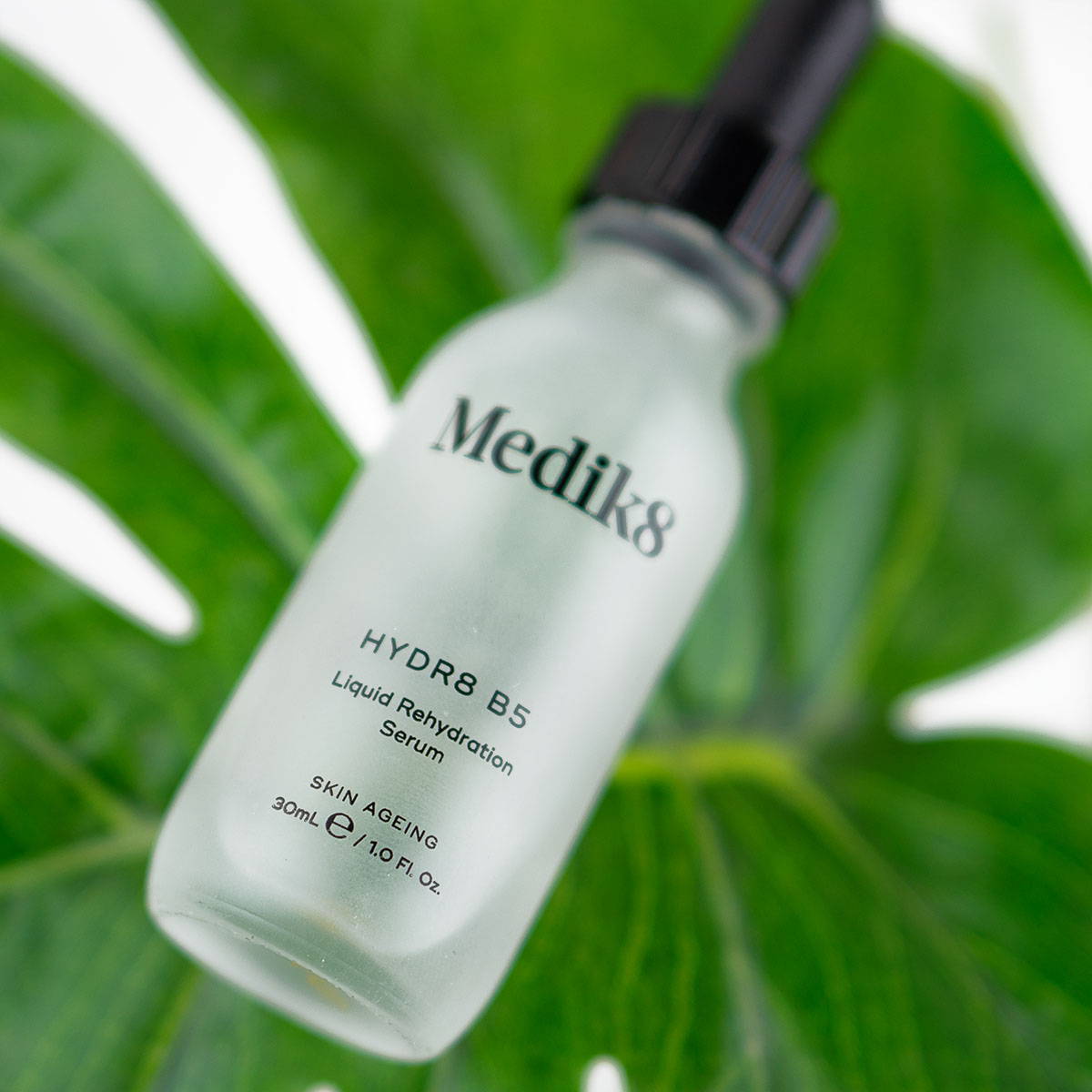 Does stress cause dryness and dullness?
Stress can often have conflicting effects on skin. As already discussed, it can result in excess sebum/oiliness. Conversely, stress can also lead to dullness, dryness and dehydration, if it significantly disrupts how the skin barrier functions. This in turn interferes with hydration and general suppleness, causing fine lines and wrinkles to look more pronounced. Rough patches are also a common consequence.
Dry skin lacks oil, whereas dehydrated skin lacks water, so it's important to choose your skincare products carefully if that's how stress is manifesting itself. Prioritise products that introduce moisture: choose emollients if your skin is dry, and look out for Hyaluronic Acid if your skin is dehydrated. Gentle exfoliation may also be beneficial, but do take care not to overdo it. Medik8's Hyrd8 B5 Serum is a light formulation that delivers intense, long-lasting hydration to leave skin looking plump and smooth. Emma Hardie's Exfoliating Brightening Tonic gently resurfaces skin, to build brightness and glow.
Stress and lack of sleep
Stress can affect your skin indirectly, too. For example, if worry is keeping you awake at night, you're likely to experience puffiness and dark under-eye circles. A dedicated eye product, such as Epionce's Renewal Eye Cream, can help. Suitable for all skin types, this multitasking formula improves the appearance of all key visible signs of ageing, and incorporates soft-focus technology to help camouflage imperfections.
Inadequate sleep is yet another factor that leads to excess cortisol, which can interfere with the production of collagen. An important element of the repair process, collagen keeps skin plump and youthful, so lower levels can lead to sagging and reduced elasticity. Lastly, sleep deprivation can cause a decrease in blood flow to the skin – yet another factor that results in dullness and a lack of natural glow. Retinol (a form of Vitamin A), known for its ability to deliver all-round skin rejuvenation, is one way to combat all of these issues. In the right dosage, Retinol can tackle discolouration, improve texture and tone, and soften fine lines and wrinkles. Try The Organic Pharmacy's Retinol Night Serum, a powerful collagen-boosting formulation that smooths, brightens and firms.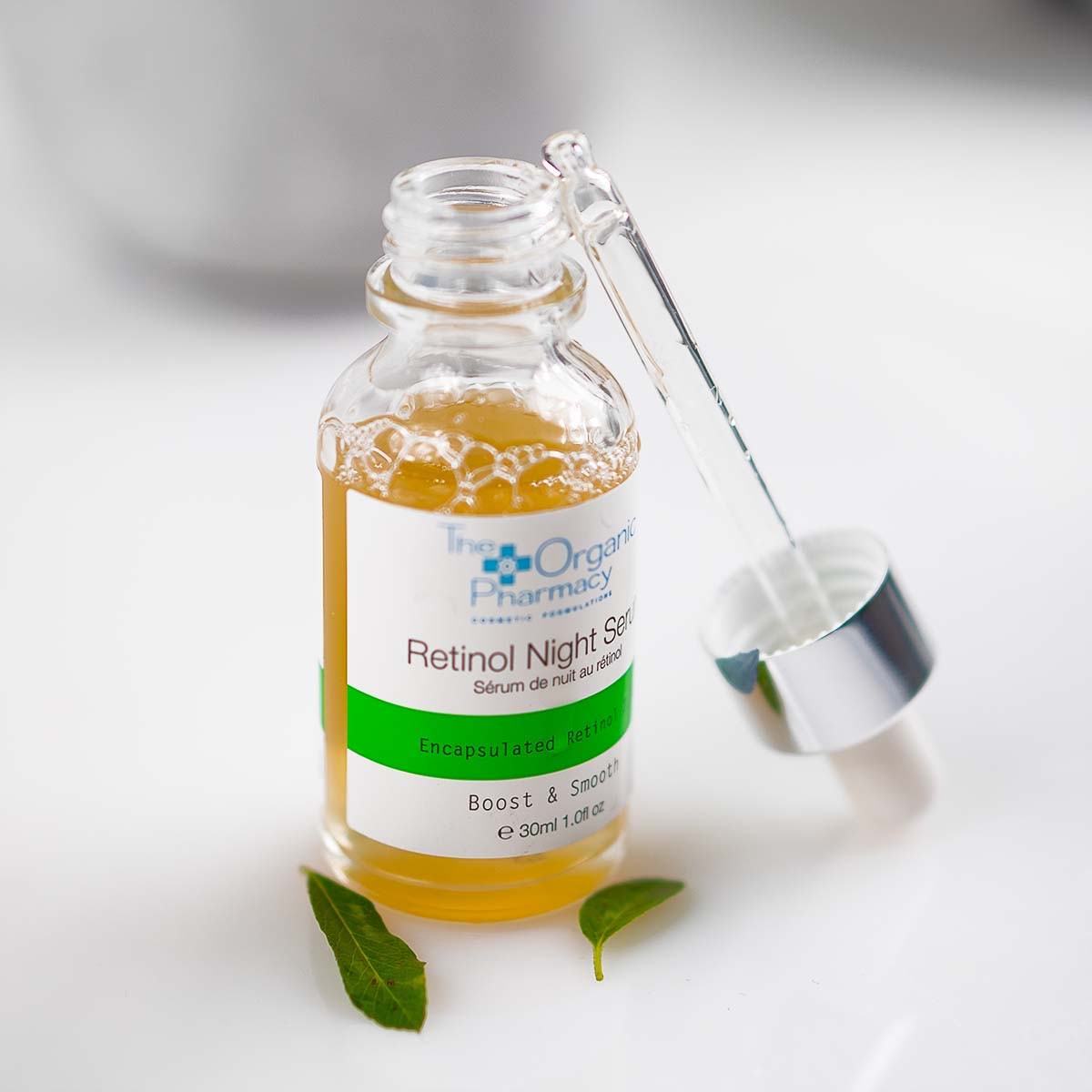 How to combat skin stress
A holistic approach to combating stress is likely to achieve the best results, both for your skin and the rest of your body. A sensible diet, combined with regular exercise, some ring-fenced 'me-time', and good sleep hygiene, are the obvious tactics to try first. A skincare regime that's tailored to your personal needs – and updated whenever necessary – can also work wonders. The irony is, when you're busy and stressed you tend to have less time and motivation to devote to a regular routine. However, making the effort will definitely pay dividends, and minimise the amount of damage that stress can inflict on your skin.