How often should you wash your face?
Regular cleansing is a vital part of any effective skincare regime. But is it possible to have too much of a good thing?
Washing or cleansing your face is the most important step in your skincare routine. That's because clean skin forms the foundation that everything else is built on. There is absolutely no point spending huge amounts of money on advanced lotions and potions if you're applying them to dirty skin, because they just won't be able to do their job properly. Basic but thorough cleansing might not be as exciting a prospect as the latest and greatest anti-ageing serum, or as comforting as a nourishing face mask, but it's without doubt the skincare step that will generate the most positive results. Regular cleansing removes dirt, sweat, excess oil, make-up, old skin cells, pollutants and bacteria. If these aren't washed away, they can cause/accelerate inflammation, irritation, breakouts, pigmentation, flaking, blocked pores, dullness and other visible signs of premature ageing. In short, however busy you are, you should always find time to wash your face. How often you do this, however, depends on a few different factors.
When should I cleanse my face?
Everybody's skin is unique, with different needs and concerns. But almost everyone's complexion can benefit from a proper wash at least twice a day: once in the morning, and once at night before going to bed. The emphasis here is on the word 'proper'. Pushing a wipe around your face with half an eye on Netflix simply won't do. How you wash your face is just as important as how often you do it. Similarly, you should always use a cleanser that's suited to your specific skin type and/or concerns.
If your job is very physical, or you do a lot of exercise, you may need to give your face an extra post-work/workout wash. But do be aware that it's possible to have too much of a good thing. Washing your face too often (or using harsh cleansers that 'strip' the skin of all its natural oils) can cause just as many problems as not washing it enough. Balance is key.
How should I cleanse my face?
For most people, the morning cleanse is a fairly fast affair – but don't be tempted to skip it. Sweat, dirt, oil and debris can all build up overnight. To keep your skin healthy, you should wash these away before beginning the rest of your skincare routine.
Micellar water is a gentle way to cleanse skin, and a good option for a morning cleanse which doesn't involve removing heavy make-up or SPF. Avant's Bi-Phase Hyaluronic Acid Rejuvenating Micellar Water is a great fuss-free, no-rinse formula. In addition to Hyaluronic Acid (which boosts skin hydration), it also includes optical brightener Tonka Bean, plus a potent cocktail of antioxidants to help neutralise free radical damage.
If your skin is red, reactive or irritable, we recommend Avène's Extremely Gentle Cleanser for Very Sensitive Skin. Formulated with minimal ingredients for maximum tolerance, this no-rinse formula gently removes make-up, oil and impurities without disrupting the skin's delicate moisture balance. It's even packaged using Sterile Cosmetics technology, to keep the contents hygienic throughout its use.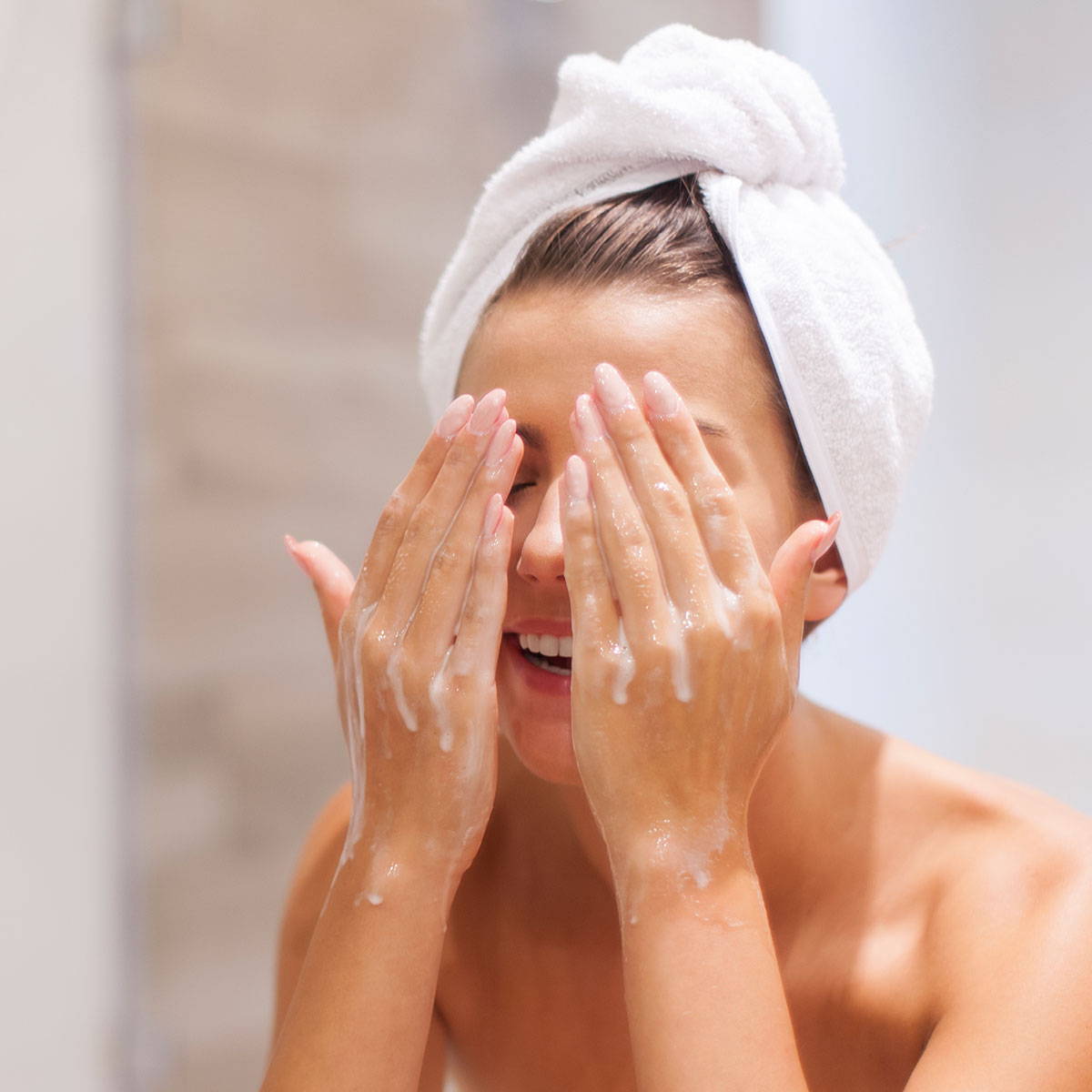 No-rinse formulations are especially suited to sensitive skin, as they minimise the risk of irritation caused by tap water. But if you prefer to include water within your morning cleanse, try The Organic Pharmacy's Peppermint Facial Wash. Ideal for oily, combination or blemish-prone skin, this invigorating, antibacterial formula deep cleanses without drying, to reduce breakouts and leaving skin feeling clean, fresh and balanced.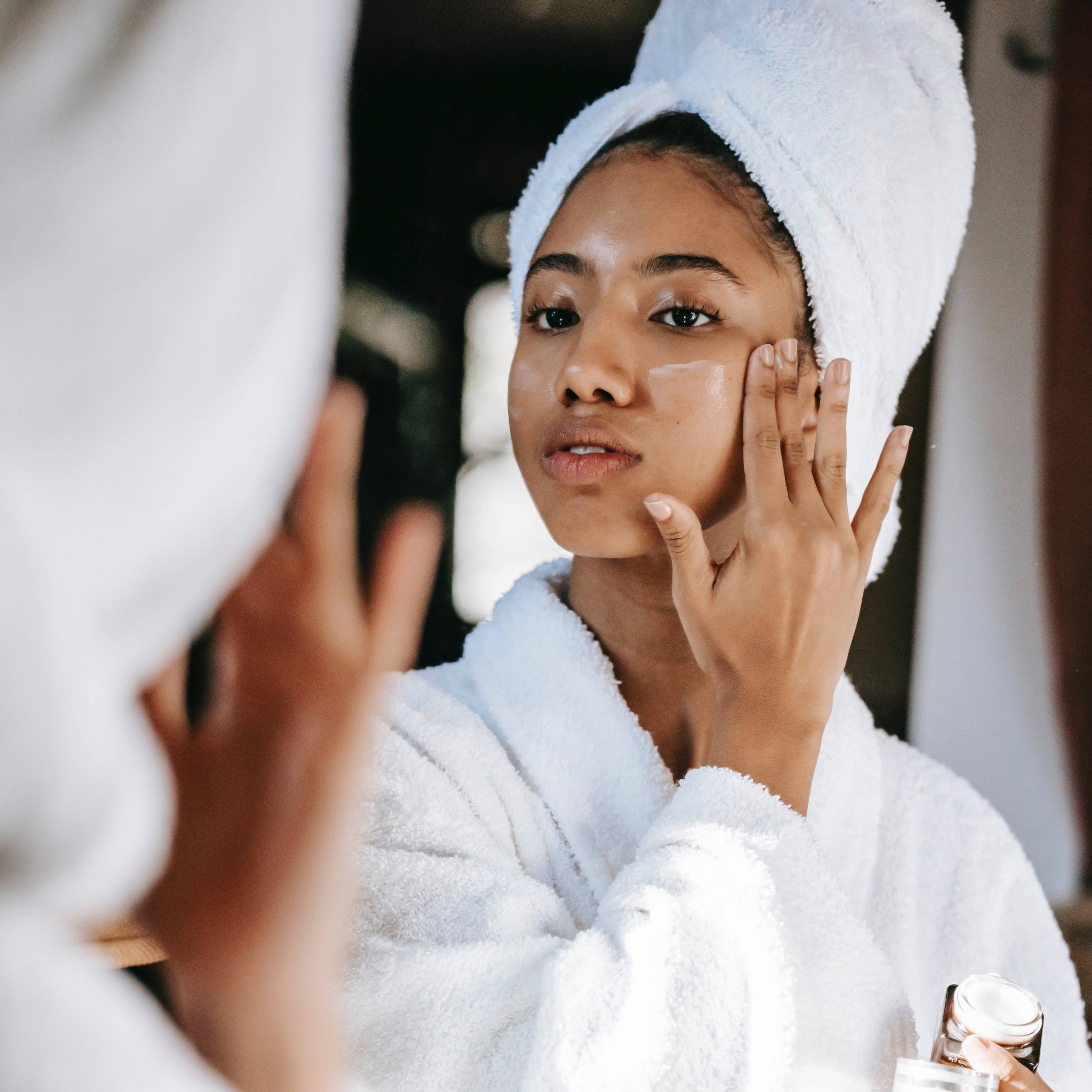 What is double cleansing?
For most people, the evening cleanse is the main event – especially if you need to remove make-up and/or sunscreen. This is basically where you wash away everything you've previously applied to your face (plus the dirt/pollution it's encountered throughout the day). Double cleansing is the best way to do this.
There are a fair few misconceptions about double cleansing, but it simply means washing your face with two different cleansers. The types you use are up to you, but your choice should largely be dictated by what you need to achieve. Your first cleanse could simply be a specialist eye make-up remover, a micellar water, or even a cleansing oil. This step is primarily designed to break down make-up, SPF and sebum on the skin's surface. 
Medik8's Lipid-Balance Cleansing Oil is an excellent first cleanse option. This ultra-gentle, cashmere-soft formulation transforms with water into a milky emulsion that dissolves impurities and even waterproof make-up to reveal radiant, refreshed skin. Key ingredients include Safflower Oil, Omega-6, Vitamin E and Moringa Extract, to nourish, hydrate and protect.
The second step of your double cleanse should achieve the serious deep-down clean that leaves your skin clear, comfortable, and completely ready for whichever products you intend to apply afterwards. Cleansing balms, which usually involve massage and removal with a face cloth/flannel and warm water, are hard to beat. They gently but thoroughly remove everything they are supposed to, without stripping the skin or disrupting the acid mantle. This is important for every skin type, but especially so if you suffer from sensitivity.
A tried-and-tested favourite is Emma Hardie's Moringa Balm with Cleansing Cloth. This award-winning cult favourite combines Moringa Seed Extract, Wild Sea Fennel and Vitamin E to deep cleanse without drying, leaving skin clean, soft and rebalanced. All traces of make-up simply melt away, while a combination of aromatic essential oils, including Mandarin, Neroli and Jasmine, calm, condition and rejuvenate. A little goes a long way, so it's excellent value for money, too. Just make sure you use a clean face cloth or flannel every time you remove it.